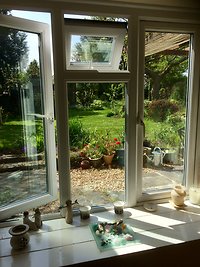 Practicalities
Place and time
I work in a calm and peaceful room at my home in Pensilva near Liskeard.
A session lasts 50 minutes and sessions are once per week.
I do not have a waiting room, so I ask that you arrive for our session at the arranged time.

Sessions are face-to-face in the consulting room, but online video sessions may be possible where it is difficult for people to attend face-to-face.

Fees
The fee is £55 per session.

Payment for the initial consultation is payable at the time. For ongoing psychotherapy payment can be made weekly at the time of the session, or paid monthly, where invoices are issued monthly in arrears. Payment can be made by cash, cheque or bank transfer.

Cancellations
During the course of the therapy, time allocated to you is your time. As such, charges are made for all sessions. It might be possible for you to be offered an alternative time for sessions notified in advance that you know you will be unable to attend, but this depends on current availability and cannot be guaranteed. You do not of course pay when sessions cannot be provided.

Holidays
Usually I take holidays that coincide with half term breaks, Christmas, Easter and a long break in the summer, usually August. I will give as much notice as possible of any time away. Please tell me of your intention to take a holiday well in advance so that we can incorporate the absence in our thinking together.



Counselling and Psychotherapy
Counselling tends to focus on a specific current problem and is short term, while psychotherapy tends to deal with more deep seated and enduring personal issues. Psychotherapy, therefore, tends to go deeper and is for a longer duration than counselling. Sessions are weekly, or sometimes twice a week.

Psychodynamic Counselling and Psychotherapy
Psychodynamic counselling and psychotherapy seeks to understand our unconscious processes and focuses on the nature of our relationships with others. It considers relationships we have had in the past, with those in the present, including those observable in the here-and-now with the therapist. There is no set agenda, and no requirement for work to be done between sessions.

Benefits of therapy
There can be a number of benefits. Often it is helpful just to know that someone is prepared to listen. Counselling and Psychotherapy can provide fresh perspectives on things, challenge negative and self-destructive patterns of behaviour. It can help you understand yourself better and hopefully help you become more the person you want to be.

Length of time/number of sessions
There is no set time for psychotherapeutic treatment. How long you remain in it will largely depend on what you want to achieve from it. Some are in therapy for weeks or months, for others it's years.